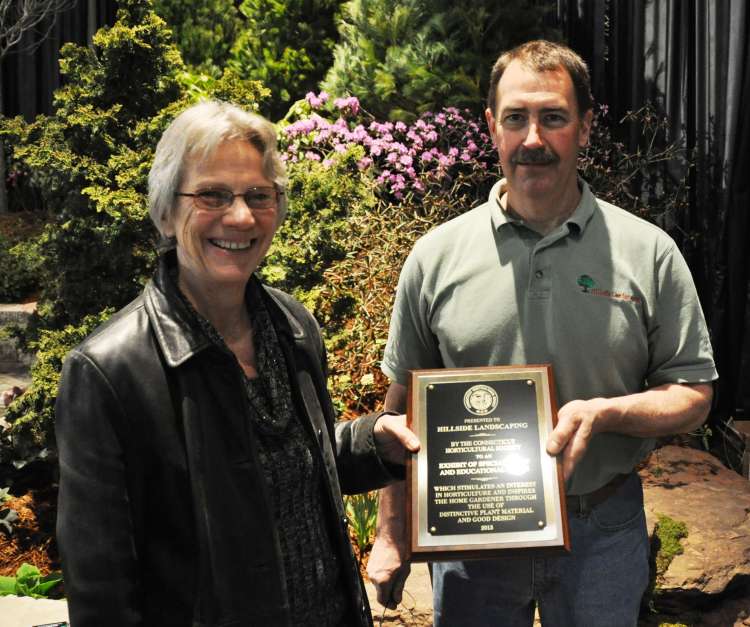 Linda Lareau presents the CHS 2013 flower show award to John Wilcox for his company's landscape exhibit.
2013 CHS Flower Show Award Winner: Hillside Landscaping Company
by Linda Lareau
Each year at the Connecticut Flower & Garden Show, CHS recognizes a landscape exhibit that stimulates an interest in horticulture and also inspires the home gardener through the use of distinctive plants and design. Recipients of this year's award are John Wilcox and Steven Walowski of Hillside Landscaping Company in Berlin.
Hillside Landscaping's exhibit reflects important elements of any strong garden design, and includes a distinctive water feature, cohesive design and larger plantings to provide perspective. The plant selection and color are appropriate and timely.
Hillside Landscaping was founded in 1984, and Wilcox and Walowski have attended the flower show for more than 20 years. The company does custom landscape and water-feature design and plant installation, emphasizing structure, texture and color. John and Steven keep the focus on easy maintenance and natural landscapes.
CHS thanks the judges for their evaluation and perspective: John O'Brien of O'Brien Nurserymen in Granby, Sarah Bailey, a University of Connecticut master gardener coordinator, and Kevin Wilcox of Silver Spring Nursery in Bloomfield.