* 2012 AWARDS TO CHS: The CHS landscape exhibit won two awards: the "Best Naturalistic Garden" award from the flower show's host, North East Expos Inc., and the American Horticultural Society's award for "demonstrating and promoting sound horticultural practices."
'After the Storm' Exhibit Description
Experience tells us that no matter how devastating the effect of Mother Nature's weather, a storm is always followed by rejuvenation and regrowth. A hurricane may wreak havoc, wind-whipping the landscape, toppling natural and man-made structures, causing flooding and changing water's path. Inhabitants flee, and in the ensuing stillness a new landscape is revealed.
The Connecticut Horticultural Society's display considers this different world and invites visitors to ask: Are storms a part of the "traditions of nature?" What about the fledgling woodlands reclaimed from cultivation and the swaths of native plants that thrive because new light reaches the earth? Do the traditions of nature include the saplings that sprout anew, the maimed shrubs that flower despite the damage, the wildlife that returns to build fresh nests and lairs without flinching as the scene changes?
Come and observe with us the seemingly impossible task of recovery. In this new world created from upheaval, the "fittest" plants and animals survive as Mother Nature revives the landscape—"after the storm."
* 2012 AWARD FROM CHS: The landscape exhibit created by Kevin Rescildo of Pondering Creations, LLC, in Terryville was chosen to receive the CHS award.
Each year at the flower show, CHS makes an award to the exhibition that best stimulates an interest in horticulture and inspires the home gardener through the use of distinctive plants and design. The display created by Rescildo included repetition of form, texture and color, combined with natural stonework, water features and other structural components. All are important elements of strong garden design.
Rescildo, who also won the CHS award in 2011, has long been interested in gardening and nature. When he was 14, his parents ceded him a corner of their property so that he could build his first pond. He earned a degree in horticulture and design from the University of Massachusetts. Ten years ago he launched his business and focused on building "natural" landscapes. His firm designs custom landscapes and water features and installs plants that emphasize structure, texture and color. A stonemason, Rescildo recently installed a greenhouse on his five-acre property, where he intends to offer unique aquatic and shade plants and unusual conifers.
A special thank you goes to CHS judges John O'Brien, Nancy Shipman and Kevin Wilcox for their evaluation and perspective. --Elaine Widmer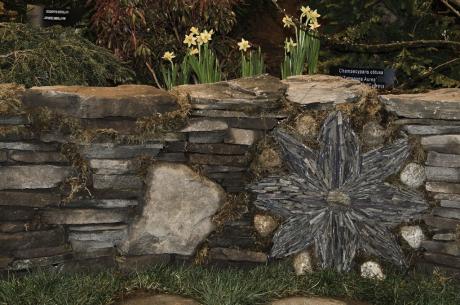 Pondering Creations exhibit