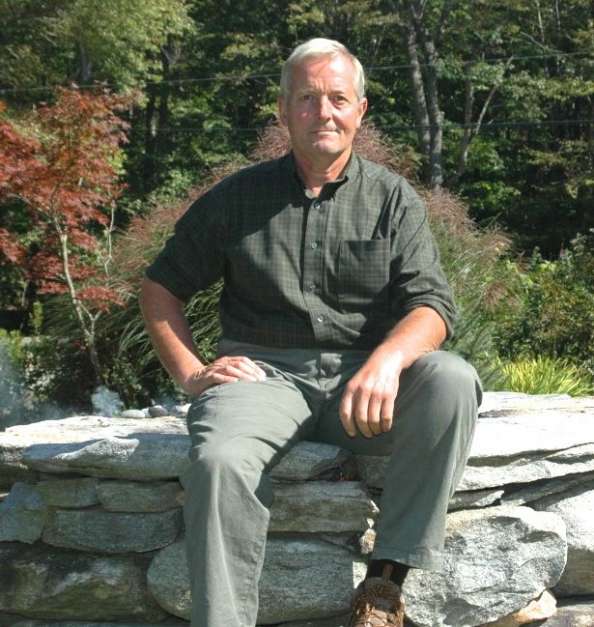 Andrew Pighills has a puzzling occupation. His passion and his profession are founded upon the upon the ancient art of building in stone, a practice he likens to solving a giant three-dimensional jigsaw puzzle. And as a lifelong aficionado of brainteasers of all kinds-from crosswords to jigsaws- he is a man in his element.
I've always been good at seeing a space and finding the stone that fits it," he says.
That talent has come in handy during a career devoted to creating artful stone walls and structures. Perhaps the most archaic of architectural creations, stoneworks are so iconic and beloved, particularly in New England, that their construction continues to be in demand. Andrew's Atlantic-spanning work-he has built stones walls in his native Great Britain and in his new American homeland-and the inspiration behind it will be the subject of his March 20 lecture.
That's not to say solving stony puzzles is easy. The right stone can be elusive, and the search for it can be challenging. "It can be frustrating," he says. "But at the end of the day you can look back and see what you've built and realize that it's going to be there for generations. It is so rewarding"
That notion of permanence has given Andrew a reverence for the stone wall's place in history and the landscape. He's partial to New England, where three broadly defined styles of wall are readily evident, beginning with what Andrew calls a tossed wall, created by farmers heaving stones to the edge of their field; to the intermediate wall, in which stones are stacked, but rather haphazardly, to the more formally finished wall with stones stacked neatly, sometimes in courses, and a tidy, more or less level top. The latter type wall is the norm in the UK, Andrew says, where the aesthetic for stone walls was standardized in the 18th and 19th century.
New England's stone walls are an integral part of colonial history, Andrew says, something he tries to emphasize to his clients and to those who attend his lectures. By sharing his enthusiasm he hopes to interest more people in conserving stone walls for future generations.
His commitment to this traditional building art has earned him a devoted list of clients, including the English National Trust and the English National Parks. His stone work has been featured on BBC television, in The New York Times, Martha Stewart Radio, The New Haven Register and numerous other publications. Andrew is a member of the influential Dry Stone Walling Association of Great Britain, and a founding member of the North American chapter of the DSWA.
Andrew's personal history with stone walls reaches back to his childhood and growing up on his father's farm in the Yorkshire Dales--best known to Americans as James Herriot country. The family farm had sheep and milk cattle, and if a stone wall fell down or was damaged it had to be repaired before the animals could escape.
"It was through necessity that I got into stonework," he says. "The more I did the more I enjoyed it and the better I became; I decided to make it my profession."
In addition to being a builder, Andrew is a gardener and trained in the UK with the Royal Horticultural Society. Then, after several decades of wall building and garden making in the UK, he immigrated to the U.S. in 2001, and lived in Brooklyn, where his professional adventures included hauling five tons of stone through the home of Steve Buscemi, perhaps better known as Nucky Thompson on HBO's "Boardwalk Empire", to the actor's Park Slope backyard to build a series of retaining walls and garden border edgings.
Andrew now lives in Killingsworth. He and his wife Michelle Becker design and build residential landscapes in the tradition of the English cottage garden. Sometimes that involves building follies, whimsical creations such as the architectural ruin of a Revolutionary War era iron foundry he created in the backyard of a Greenwich client.
He is also working on his gardens at home, where he owns what he says may be the only property in town that did not have any stone walls, a situation that, as you might guess, Andrew is working to remedy.